Title:

The Raging Ones
Author:

Krista Ritchie and Becca Ritchie
Genre:

YA/ Sci-Fi
Series:

Book 1 in The Raging Ones
---
Synopsis: "In a freezing world, where everyone knows the day they will die, three teens break all odds.
Franny Bluecastle, a tough city teen, dreams of dying in opulence, to see wealth she's never known. Like the entire world, she believes it's impossible to dodge a deathday.
Until the day she does.
Court Icecastle knows wealth. He also knows pain. Spending five years in Vorkter Prison, a fortress of ice and suffering, he dreams of life beyond the people that haunt him and the world that imprisoned him.
Mykal Kickfall fights for those he loves. The rugged Hinterlander shares a frustrating yet unbreakable connection with Court—which only grows more lawless and chaotic as their senses and emotions connect with Franny.
With the threat of people learning they've dodged their deathdays, they must flee their planet to survive. But to do so, all three will have to hide their shared bond as they vie for a highly sought after spot in the newest mission to space. Against thousands of people far smarter, who'll live longer, and never fear death the way that they do."
---
The Raging Ones was an enthralling sci-fi read! I was immediately drawn into this futuristic world where everyone knows the day of their death and that is that, nothing to do about it.
"Be careful of how you die, my little Franny." she told me. "You can set your terms but not the day."
Told from the POV of the 3 main characters, Court, Mykal, and Franny, we are able to view this strange, futuristic world with fresh eyes and fresh perspectives. All 3 have such unique ways of life it made this such a delightful read. Told in 3 different POV's you'd think it might get confusing but it was portrayed in an excellent manner and easy to follow who was who. Sharing a bond that goes deeper than just the fact they all dodged their deathday, Franny, Court, and Mykal are linked emotionally as well. That's right, they can feel each others emotions. From the description of the novel you might think, oh great this is gonna be just another love triangle trope but you are wrong my friend, WRONG.
"Is it possible to know the core of someone without understanding the shell?"
With such an intriguing plot and complex characters I was on the edge of my seat the whole time wondering WHAT IS GOING TO HAPPEN NEXT, ARE THEY GOING TO MAKE IT, OHMYGAWWWWD. and also just a fair warning: CRAZY CLIFFHANGER ENDING.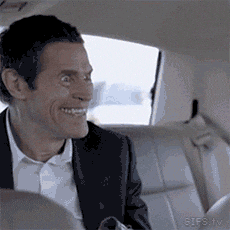 It me now after finishing⬆️
I need the sequel asap please and thank you.
*I received this book for free from the publisher via Netgalley in exchange for an honest review."